WORLD BICYCLE DAY – Rethinking Mobility: Cycling for a safe COVID-19 Recovery and beyond (webinar)
3
Jun
à

14-15H30
Rethinking Mobility: Cycling for a safe COVID-19 Recovery and beyond
The coronavirus pandemic has hit our lives and our economies. Never before have we been able to see, in such a clear way, the impact of our current mobility model on health, environment, equality and safety. Cycling is proving itself essential as a healthy, safe, reliable and fast transport option.
With the progressive lifting of lockdown measures, more and more cities are showing strong leadership in reallocating public space to active mobility and governments around Europe are offering financial incentives to encourage cycling. If we want these changes to be a permanent part of the post-COVID-19 world, collaboration, strong political will and concrete action will be necessary.
The European Cyclists' Federation (ECF) has issued a set of recommendations for European, national and local authorities to promote cycling.On 3 June -the World Bicycle Day- ECF invites you to take part in a webinar from 14:00 – 15:30 to present these recommendations and discuss with leading decision-makers and cycling advocates how we can take advantage of the current crisis to rethink our urban mobility systems and redesign cities for good.
Draft agenda
14:00 – 14:30 Introduction & Presentation of the ECF Recommendations
Jill Warren and Morten Kabell, co-CEO's, European Cyclists' Federation, Brussels
14:30 – 15:30 Panel discussion: Cycling for a safe COVID-19 recovery and beyond
Moderator: Raluca Fiser, President of Green Revolution, ECF Vice-President, Romania
Panelists:

Adina Vălean, European Commissioner for Transport, European Commission (invited)
Christophe Najdovski, Deputy Mayor for Transport and Public Space, City of Paris, and ECF President
Miguel Gaspar, Deputy Mayor for Mobility and Safety, City of Lisbon (invited)
Saskia Kluit, Member of Dutch Senate and Director, Fietserbond
Will Haynes, Infrastructure Director, Sustrans
We hope to see you at the webinar to celebrate the World Bicycle Day with the cycling community!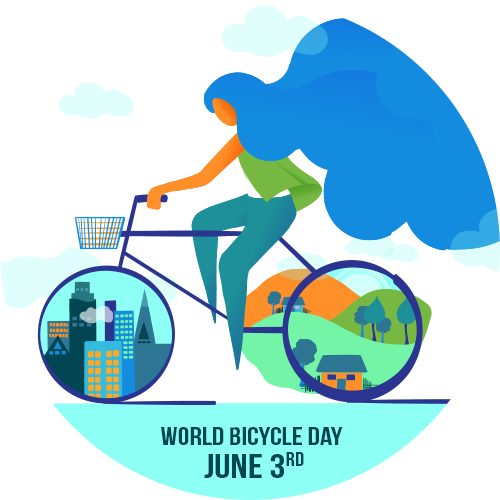 Published on 26/05/2020